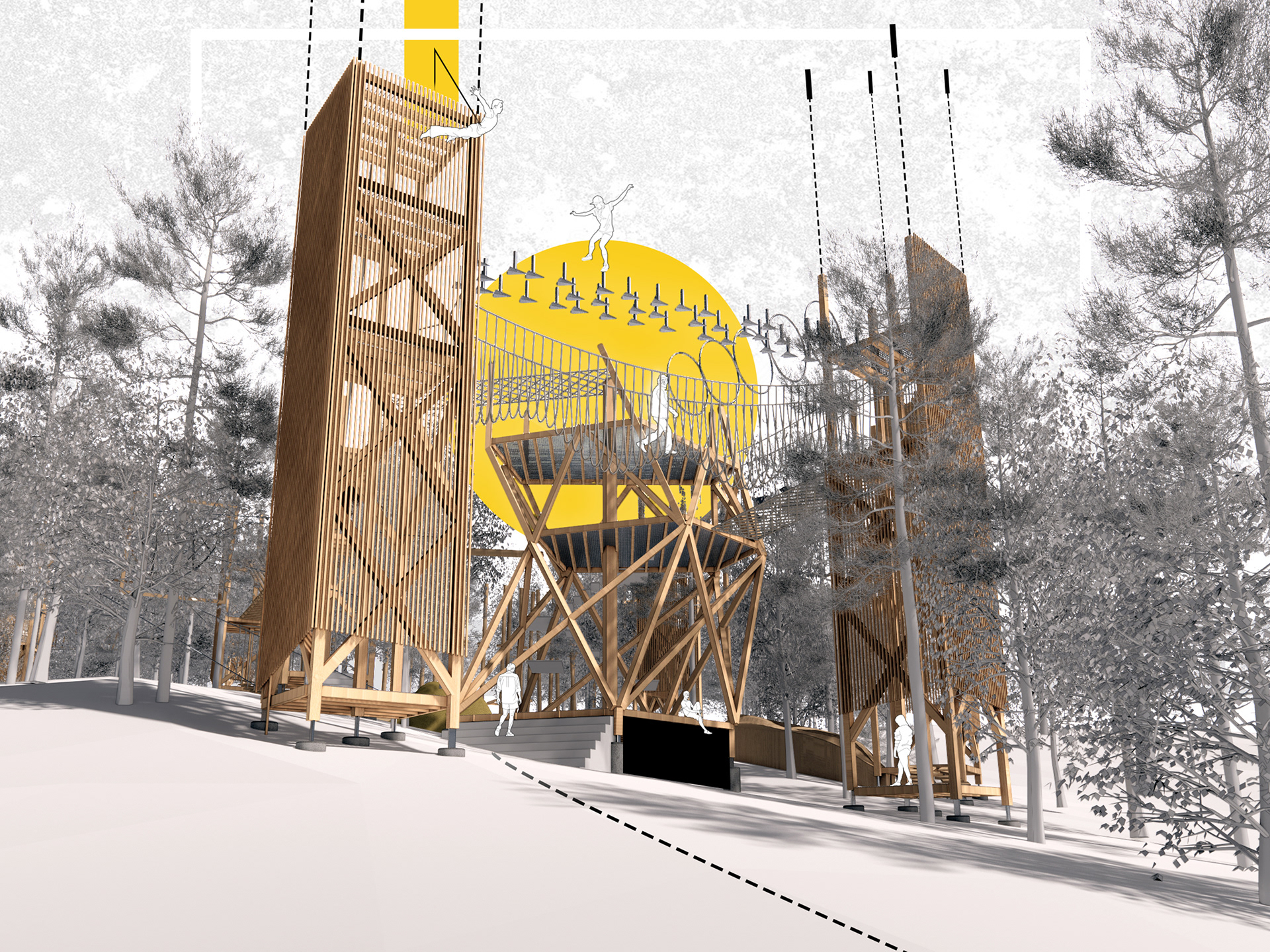 Aerial Adventure Park
Studio North's Kinosoo Aerial Adventure Park proposal is an experiment in producing a customized design and construction system that is fully integrated within a digital parametric model. As a response to an RFP with a quick turnaround time for design and installation that would not be feasible with a conventional approach, we developed this methodology in order to provide a viable alternative to off-the-shelf prefabricated aerial park systems and create a more context-specific design. Using a parametric methodology allowed the team to rapidly iterate the design of multiple structures simultaneously, create fully custom geometries within project delivery constraints (such as the maximum height of a prefabricated tower that could be moved on a flatbed truck), and facilitate budgeting and engineering by incorporating a live database of material sizing and quantities. Most of all, the parametric methodology allowed us to craft a design that made maximum use of the specific geographic, sociocultural, and historic contexts of Kinosoo Ridge and Cold Lake.
Like the irregularly gridded terrain of Northern Alberta's agricultural and oil well networks, the network of platforms weaves through the forest to offer moments of both sheltered refuge in the trees and exposed views of the entire surroundings. The geometric forms of these structures hybridize two iconic geometries of the Cold Lake region: the industrial oil drilling structure as a symbol for Cold Lake's industrial history and focus, and the trestle bridge as a symbol for Cold Lake's drive towards a recreational and human-centric hub in Northern Alberta. Cold Lake's themes of energy production, agriculture, and military air training are also interwoven through the obstacle design. The specific site geography and vegetation also played a key role in the design. Lower obstacle routes branch into the trees, offering some shelter and atmosphere, while the higher routes begin at the treeline to maximize views over the resort and lake below. Guests emerge from the forest at key moments to traverse signature obstacles over the access road, such as the paper plane steps above the west entrance, and the wheat stalks at the east entrance. Guests who brave the hardest features at the top level, culminating in the massive tightrope walk and the ladder climb up the zipline tower, are rewarded with an iconic zipline ride from the highest point on site with the most panoramic views. Obstacles on the way down the zipline build excitement and a sensation of speed as guests fly through them. The guest experience and replayability is further enhanced with the ability to traverse the course during nighttime events, where obstacles are lit up by glowing paint and the towers become illuminated checkpoints in the dark.
Location
  Kinosoo Ridge Snow Resort, Cold Lake, AB
Matthew Kennedy (project manager, budget development) / Hayden Pattullo (design lead, parametric manager, project rendering) / Damon Hayes Couture (designer) / Breana Chabot (diagram drawing)
Collaborators  
Entuitive (engineering)
Status 
 Proposed July 2020