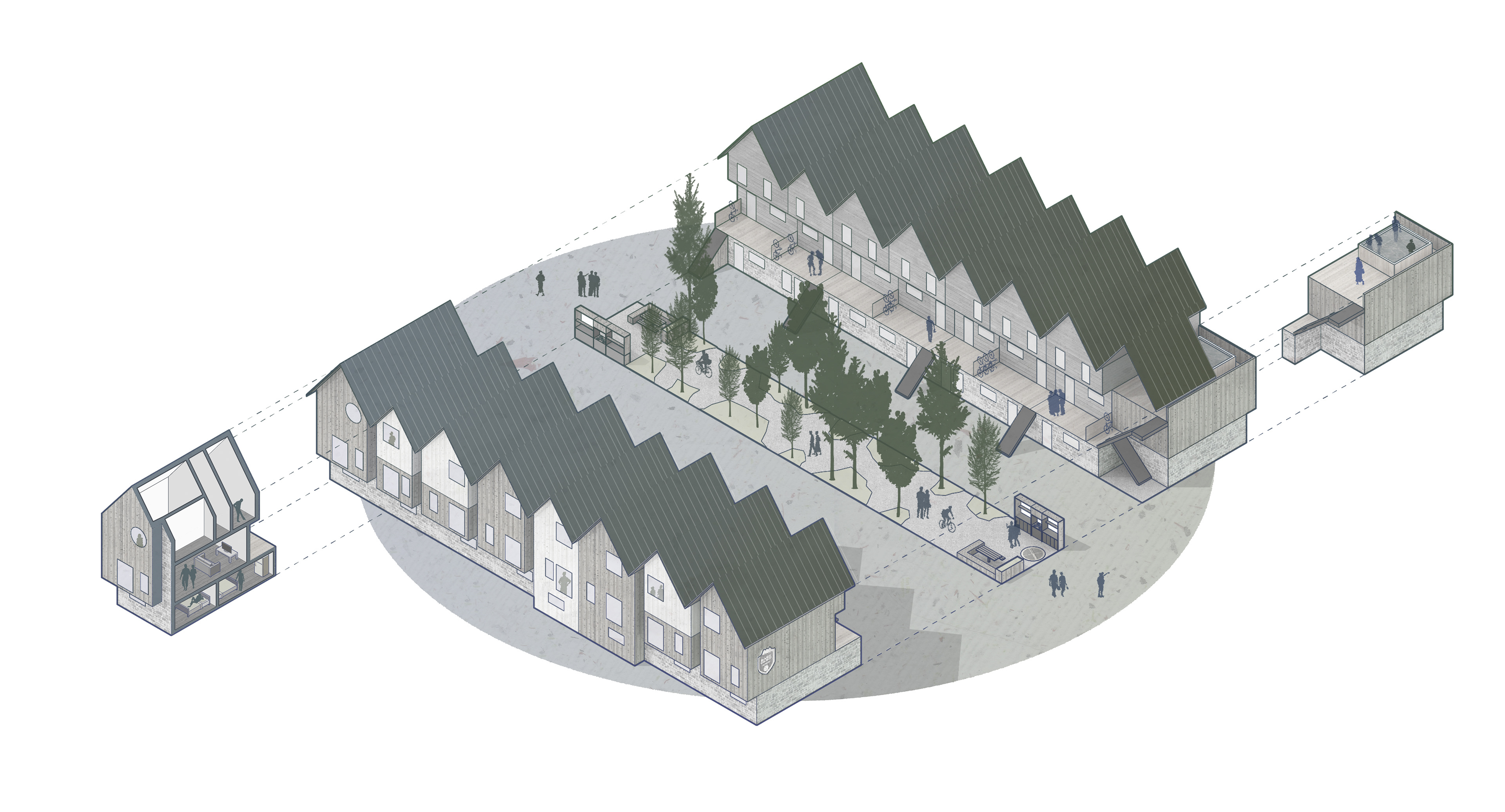 Base Camp
In the mountain town of Canmore, Base Camp is a refuge for intrepid travelers exploring the charms of downtown and the splendours of the surrounding Rocky Mountains. The 34-unit hotel is both an architectural homage to the bygone days of the former mining community and a forward-thinking development for the future of the town as an outdoor adventure hub.
The Base Camp buildings are an interpretation of the traditional mountain cabin. The two linear building masses are composed of archetypal 'cabins' that reference historical building typologies seen during the early days of settlement in Canmore. With a different roof pitch and varied window placement, each accommodation is unique from the exterior, allowing guests to identify their 'cabin' during their stay at Base Camp. The materials used on the exterior, including the whitewashed and stained cedar cladding and rundle stone masonry, are locally sourced and are in keeping with the regional mountain vernacular. The jagged roofline of the buildings seamlessly blends in with the surrounding mountain panorama.
Base Camp promotes an active lifestyle and is tailored to outdoor enthusiasts and mountaineers looking for a cozy place to relax after a day spent exploring. Upon arriving at the hotel, guests are presented with a range of communal gathering areas to enjoy. Base Camp is able to provide ample outdoor amenity space by doing away with the redundant spaces of traditional hotels such as expansive lobbies and long corridors. The open-air courtyard, which gives access to all of the accommodations, meanders between lodgepole pines and trembling aspens. At either end of the courtyard, outdoor kitchens and eating areas give guests a place to prepare and enjoy a meal while taking in the views. From the shared central courtyard, a series of stairs leads to elevated patios with dedicated spaces for storing skis, snowboards, and mountain bikes. On the rooftop, an exposed structural steel and timber canopy shelters a large hot tub and frames a dramatic view of the mountains beyond. The space is the perfect place for visitors to gather, relax, and tell stories after a day of experiencing the grandeur of the Rocky Mountains.
Ranging from compact studios to large three bedrooms, Base Camp is suited to every type of traveler. All of the accommodations are beautifully furnished with a fully functioning kitchen, complete with customized mugs. In the two and three bedrooms, a large farm table allows for an extended cooking space and large groups to come together around a shared meal. The windows frame the mountains in memorable ways, ensuring that the surrounding landscape has a strong presence from within.
Location
  Canmore, Alberta
Client  
Big Moose Developments
Studio North Team
Matthew Kennedy (design), Damon Hayes Couture (design), Mark Erickson (design), Brighton Parks (schematic design)
Architect of Record
  Systemic Architecture Inc.
Builders
  Shape Construction and Metrik Developments
Status 
 Completed September 2017