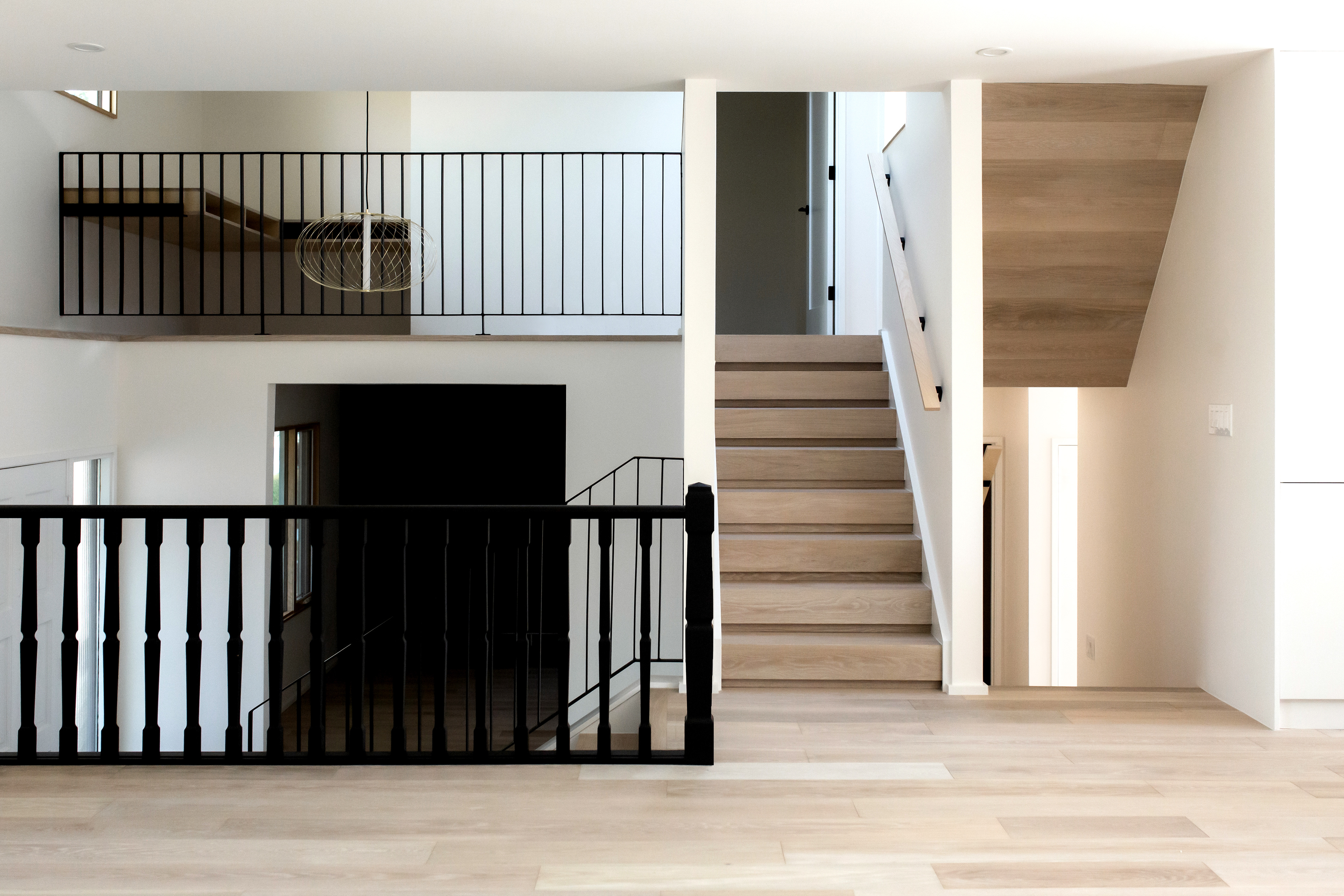 Location
 Dalhousie, Calgary
Studio North Project Team
Damon Hayes Couture (design), Erica Burgsma (design), Breana Chabot (interior design), Matthew Tyrer (project management), Hayden Pattullo (photography), Brendan Kane (videography)
As young parents who recently moved to Canada from Switzerland, the clients of the Monochrom House were looking to renovate a dated 1970s home to fit their family's lifestyle over the long term.  At the centre of the design challenge was the house's highly compartmentalized layout, which limited the available natural light and made moving between floors and half-floors confusing and disjointed. The clients envisioned a transformation that would create bright and open spaces to welcome guests and echo their taste for warm, yet sleek European architecture. Studio North was up to the challenge in reimagining the functionality and aesthetics of the house, while also implementing an extensive retrofit to dramatically increase the energy efficiency. 
The Monochrom House uses the client's passion for black and white film photography as an inspiration for both spatial composition and material selection. The name itself, Monochrom House, comes from the client's Leica M Monochrom, a black and white camera which he can now develop pictures from in his specially designed dark room. High contrast black finishes are used selectively against white backdrops to organize the new floorplan and guide movement between rooms. The black accents serve as anchors in their respective spaces while also highlighting the character features that have been maintained.  An 18' black island serves as a focal point for entertaining and gathering in the kitchen, while the freshly painted black fireplace in the den provides a sophisticated place sit back and chill out. The double height space at the entry is a compositional focal point, creating views and light permeability between the upper and lower living rooms. Generously sized windows and new skylights in this space and the kitchen serve to not only provide abundant lighting, but also to frame key views of the backyard garden and trees. Meanwhile, the use of and muted white oak flooring, baltic birch millwork, and brass fixtures lends a natural warmth to the space.
These strategies also serve to enrich the home's more private spaces, such as the clients' master bedroom and ensuite. Rather than create a traditional hard boundary between these spaces, the transition between the master bedroom and ensuite is fully open and denoted only through material changes. The spacious shower sits in the corner between the bedroom and ensuite and uses frosted glass to create subtle light and shadow silhouettes between rooms. The open layout and strategic material use maximizes natural light to both spaces, while also reinforcing the clients' free-spirited European influence.