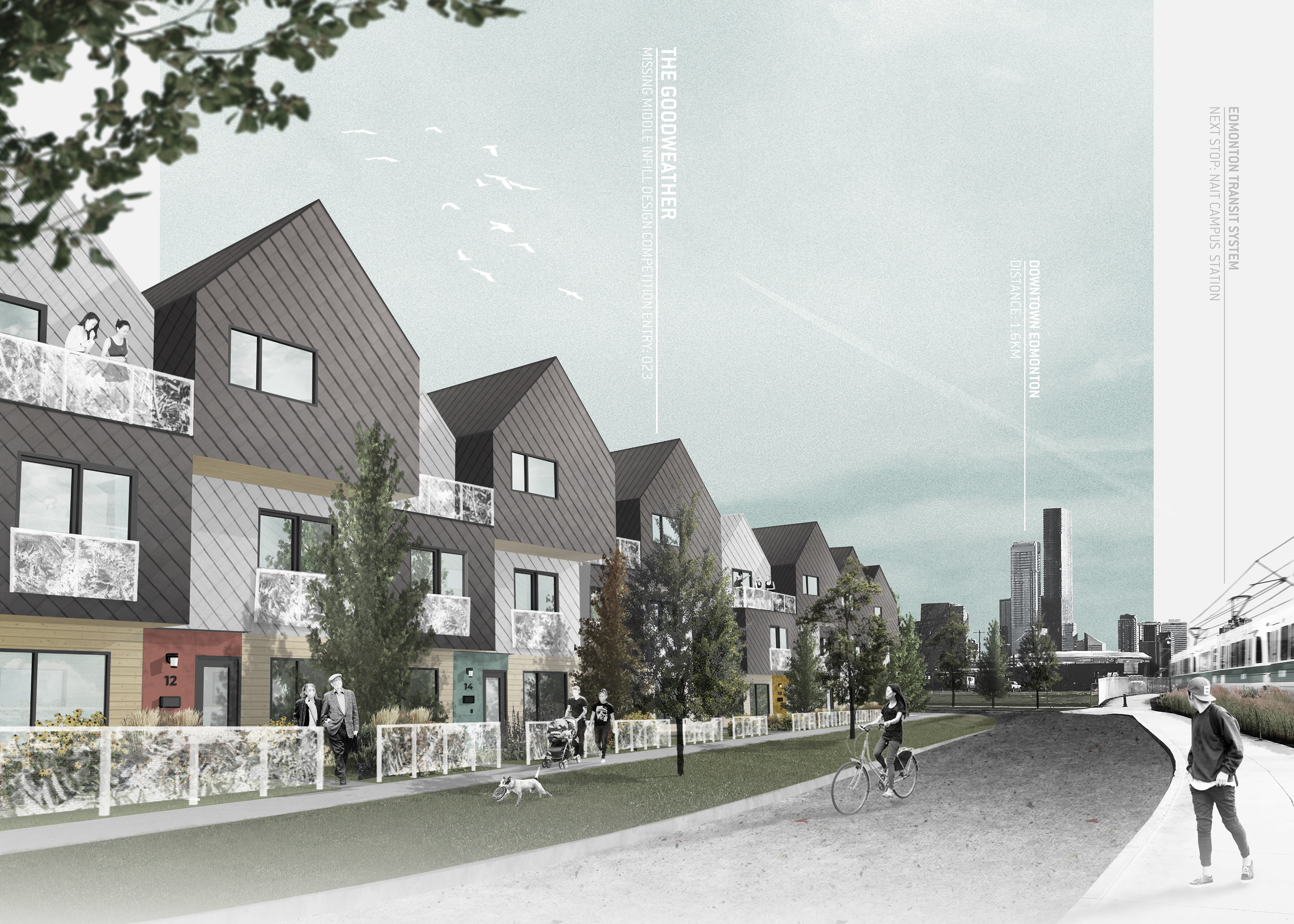 The Goodweather
The Goodweather is the winning entry from the 2019 international Edmonton Missing Middle Infill Design Competition. The central concept of this proposal is that the missing middle is a place that promotes human interaction by providing space to play, relax, and enjoy the outdoors together. Located in the intentionally intergenerational community of Spruce Avenue, this proposed development intends to balance the old with the new and offer a high standard of living and integrate into the existing fabric of the established community. As a Missing Middle building, the development also aims to address the current mismatch between Edmonton's existing housing stock and its shifting demographics, while serving a growing demand for affordable, accessible, and multigenerational living. 
Transitioning from the typical North American housing model that prioritizes independence to one that encourages interdependence, our ambition was to create an arrangement that will benefit everyone in their own unique way. Young families benefit from the care and supervision that elderly residents can provide. The elderly, on the other hand, become part of a vibrant community rather than being retirement homes that can be really isolating. The concept for The Goodweather started first and foremost with the dwelling typologies, focusing on the needs of different demographic groups to ensure that we can provide a range of housing options. It was important for us to have dwellings that were diverse not only in terms of square footage and numbers of bedrooms, but in the range of accessibility and mobility that each one entails. For example, the ground level dwellings are designed with accessibility in mind to ensure sustainable transitions for elderly people. These dwellings are efficiently designed spaces with features such as sheltered entryways for coming in from the cold or rain, high contrast finishes to ensure visibility, and universally accessible bathrooms to ensure mobility

The Goodweather synthesizes a variety of existing typologies into a unique configuration and brings together many demographics and generations into a pocket community. The development is focused around a common courtyard that also features a small community hall and daycare facilities for tenants. Aggregating the dwellings on site in a free-form yet responsive way allowed us to define different gateways into the space, create microclimates in the shared courtyards, and bring the landscaping into the overall scheme. We wanted it to be a beautiful space that residents of the community would feel proud of and want to spend time in, extending their living space and making an outdoor living room. Just like Edmonton's storied river valley that cuts through the downtown, the courtyard of The Goodweather is a meandering forested path flanked by terraced dwellings on either side.
Location
  Edmonton, Alberta
Size
  56 units / 39,900sq ft total
Collaborators  
Part + Parcel
Status 
 Winning entry of Edmonton Missing Middle Infill Design Competition